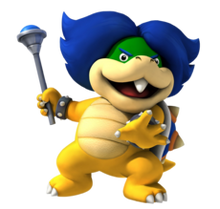 es el más grande de todos los Koopalings, y se trata de el mayor avanzado en edad, pese a ser el mayor de edad no es el más fuerte de sus compañeros, ahora bien, es el más inteligente de sus 8 hermanos, y probablemente más que el propio Bowser. Como se ha demostrado en varios videojuegos, era el segundo al mando en el ejército de Bowser hasta la aparición de Bowser Jr, lo cual lo sitúa en tercer grado. . También se le considera una persona muy culta y educada, también es el más poderoso de sus hermanos, ya que es el único capaz de combinar todas sus habilidades (terremotos, salto..) y el único con la capacidad de lanzar bolas de fuego por la boca (como se pudo ver en Super Mario World) Sin embargo dejo de poseer esta habilidad, por ello Kamek les dio esas baras que crean fuego de sus colores favoritos y mucho después en New Super Mario Bros. Wii, Bowser Jr. logra lanzar sus primeras llamas.
Vive en un gran conflicto con su hermano Iggy Koopa ya que estos pelean para saber cual es el más listo, aunque Iggy termina siempre siempre humillado por Ludwig, también con Bowser Jr. ya que Ludwig era descendiente al trono Koopa hasta que Bowser Jr. se lo quito al ser el favorito de Bowser.
Se sabe que le gusta escuchar música clásica, un poco de ópera y también se sabe que le gusta jugar a videojuegos, comer chocolate, leer libros de misterios y monstruos, inventar, así como componer música.
En algunas ocasiones se le considera una persona cruel, presuntuosa, malvada y arrogante. Él se considera así mismo un genio del mal (lo cual es completamente cierto). Cuando Bowser tiene un problema, este acude a Ludwig.
1 la clonación del arte: Ludwig se clona por 2 y pueden atacar más fuerte juntos
2 aleteo cruel: ludwig vuela por 11 segundos, su aire se convierte en magia y ataca a los enemigos
3 el impulso del maestro: Ludwig se mete en un cañon y es disparado con gran fuerza.
4 tres bolas: Ludwig lanza con su barita tres bolas magicas que siguen automaticamente al enmigo.
5 la clonación quintruple: Ludwig hace 5 clones suyos lo mismo que en la clonacion del arte.
6 vuelo de verdad: Ludwig flota y lanza bolas magicas de su varita
7 colgandose: despues de ser disparado en el cañon Ludwig puede impulsarse gracias a unas cadenas que aparecen el el cielo.
8 la magia y el fuego: ahora Ludwig también puede disparar bolas de fuego.
9 música maestro: Ludwig toca el piano asesino y las notas de música envenenan al enemigo.
HISTORIA
Edit
Ad blocker interference detected!
Wikia is a free-to-use site that makes money from advertising. We have a modified experience for viewers using ad blockers

Wikia is not accessible if you've made further modifications. Remove the custom ad blocker rule(s) and the page will load as expected.