APARIENCIA
Edit
Este Piraña a diferencia de los de su especie, es sumamente gigante, y puede lanzar Grafitti, aterrorizando al lugar de Monte Blanco. Cuenta con un gran estomago y una gran flor en su cabeza, sus brazos tienen la fuerza para poder hacer volar a Flor Piraña. En batalla su punto débil es su estomago. Es un personaje Pesado en Mario Kart: Double Dash!!, Por lo que es discutible su forma de poder volar.
1 Tinta del estomago: floropiraña escupe tinta.
2 La planta voladora: floropiraña puede atacar desde el cielo
3 El estomago va a petar: Floropiraña llena su estomago de agua y explota quitandole un poco de vida.
4 Comer: Floropiraña puede comer enemigos medianos y pequeños
5 Más a pintar: la tinta del estomago de piraña se transforma en plantas pirañas de pintura que atacan al enemigo.
6 perdiendo kilos: Floropiraña vuela más rapido
7 petada y curación: después de explotar el estomago de piraña escupe sabia y puedes curarte con esta.
8 zampandose a king kong: Floropiraña puede comerse durante 6 segundos un enemigo clase grande.
9 persecución a 5 bolas: Floropiraña provoca un terremoto del que salen 5 bombas de tinta que explotan en 5 segundos.
HISTORIA
Edit
Floropiraña era una pequeña planta piraña que en el festival GUI de la isla delfino fue mojado en tinta y se quedo atrapado allí 27 años hasta que se comió su prisión de tinta, mutó y empezo a tener un apetito insaciable, actualmente vive en el monte bianco en ciudad delfino.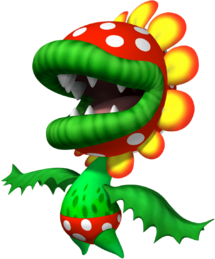 Ad blocker interference detected!
Wikia is a free-to-use site that makes money from advertising. We have a modified experience for viewers using ad blockers

Wikia is not accessible if you've made further modifications. Remove the custom ad blocker rule(s) and the page will load as expected.